Slap Shot Golf Tournament
Saturday October 22nd, 2005
at the Angus Glen Golf Club
in Markham, Ontario

Click here for more details & to join us!
"Slap Shot" actor visits California

CALIFORNIA "Slap Shot" fans!

If you missed meeting Yvon Barrette (Denis Lemieux) at any of his 4 appearances recently in California, you should feel "shame"!

But if you did not meet him, here's your chance to view many of the great photos from each event and to see for yourself all the fun you missed!

Click on each city below for great shots of the most famous goalie in
hockey history meeting all the great "Slap Shot" fans out there!
A special Thanks goes to Ken "Toe" Blake for allowing me
to link to his site for these great photos of these events!

The Ultimate "Slap Shot" Fan website!

Click on the link above to go to my buddy
Ken "Toe" Blake's Ultimate Slap Shot Fan website!

Having problems finding love? Need help with the ladies? Well, fear no more, our resident pervert, Moe, will provide answers to your questions and you'll be getting snatch by the pool in no time!
Dickie captures the spirit of society as he takes on various topics. And you know if he wrote it, it must be true!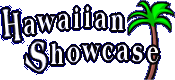 Test your Slap Shot knowledge against these questions and win a trip to Honolulu! Just kidding.

Come take a stroll down memory lane with some of the fellas and see if they still have it or if they've turned into a bunch of pussies.

Now Featuring:
Yvon Barrette a.k.a. Denis Lemieux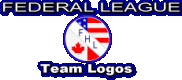 Check out our versions of the logos of the Federal League teams. Most logos in the movie were typographical, so you'll have to use your imagination, that's what we did!

The biggest piece of crap movie ever produced! The only thing this DVD is barely good enough for is a drink coaster.
A Baldwin brother in a Slap Shot movie?
Even our beloved Joe McGrath wouldn't cook
up a shitty PR scheme this awful!

"Jean-Guy, Jean-Guy, change the channel! Changez la Canal!" This is the place for stuff, as the exercise lady says, that is way, waaaaay up there!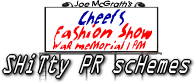 A collection of Slap Shot promotional material from around the world. We're still searching for the Chiefs key ring that wasn't available in stores, though.

The place to go for any newbies that want to learn all about the greatest film ever produced.

Lost your job down at the mill? Attempting to become one with the universe? Save yourself a trip to the local religious record store, we got it here! You'll find these words a tremendous help!